Bozeman Sucks: Think Twice Before Moving Here
Have you or someone you know been considering moving to Bozeman, Montana? Well, we are here to tell you to spread the word about how awful Bozeman is ;)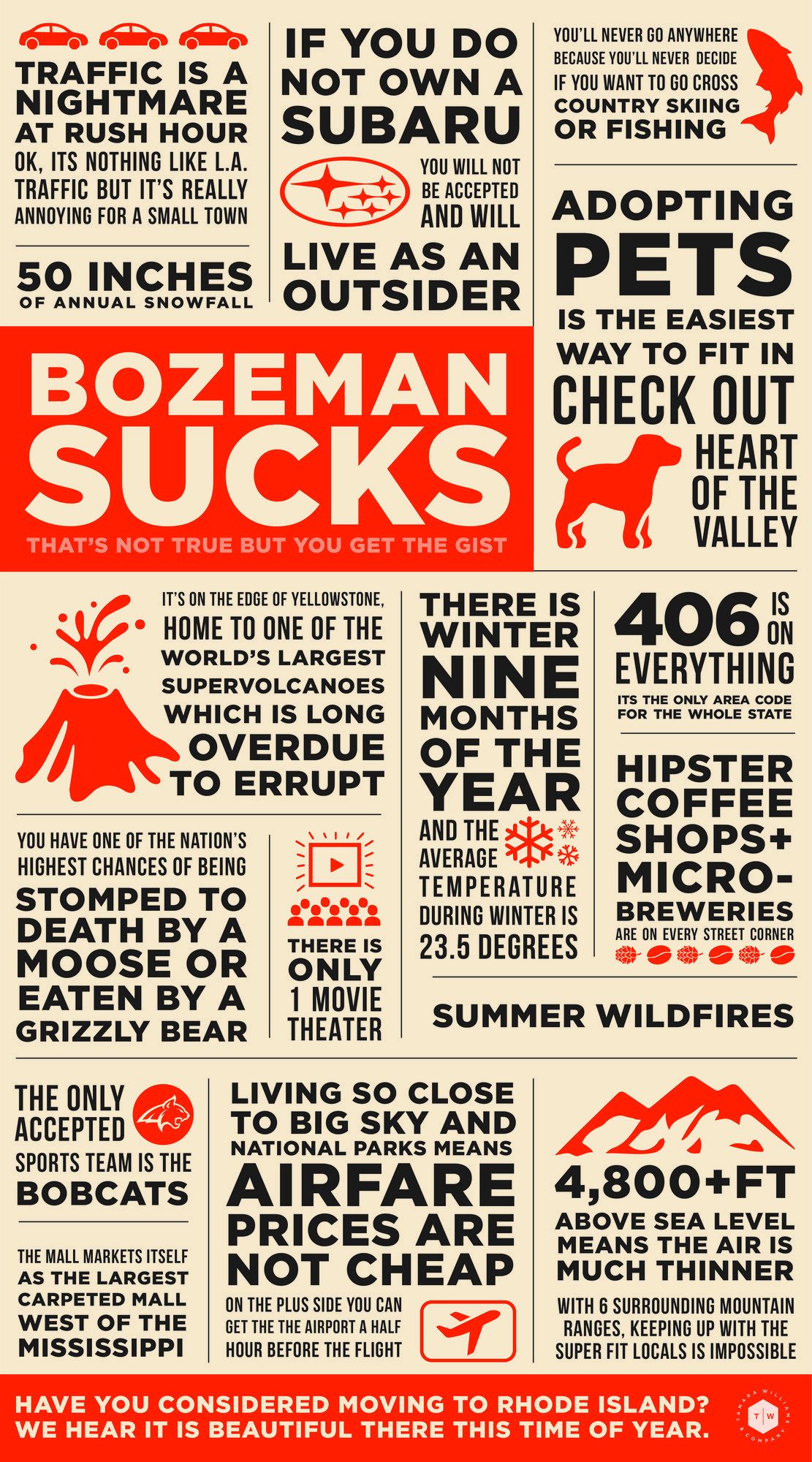 Long winters: Be prepared for 50 inches of annual snowfall. We aren't talking snow for just a couple of weeks, we are taking snow in the fall and again the first day of summer. Winter here can last a couple of months if we're lucky, but don't get your hopes up too soon. After "first spring" comes "second winter", followed by "second spring" and "third winter", so before you get to enjoy the stunning summer, you have an average of 9 months of winter. Thankfully there are plenty of winter activities to enjoy here. From snowboarding to snow showing to snowmobiling, if it has the word "snow" in it, you better believe we do it! If you don't like snow, Bozeman probably isn't for you.
Summer: With such a bi-polar weather schedule, Montana is still confused once summer comes around. Sunny days are followed by afternoon thunderstorms bringing the potential for an evening wildfire.
When there aren't wildfires and you can enjoy the day outside, you really won't. Trying to determine if you want to tube one of the glorious rivers, go fly fishing, or hiking will be tough...so you might as well just stay home.
Plentiful Dog Community: Montanan's love their animals and by that we mean they love hunting AND they love rescuing pups from the local shelter. Everywhere you go in Montana, people are accompanied by their 4 legged companions. So if you prefer cats, Bozeman probably isn't for you. And if you don't like seeing hunting trophies, you better not step into any local business. Oh ya, did we mention almost every business is a local business?
High Airline Pricing: Bozeman may be located in the middle of the mountains but there is an International Airport. Being such a heavy tourist destination, prices for airfare can skyrocket at peak times. Alternatively you can take a road trip and battle with road construction and the occasional wildlife crossing.
Beware of Wildlife: Speaking of wildlife, have we mentioned the need to carry bear spray everywhere you go? There are numerous hiking trails and if you can make up your mind on which one to tackle, you better not get out of the car without your spray. Between the bears and moose and their growing families, you're better off staying indoors, or better yet, just stay where you currently live.
Now that we've steered you away from venturing into the wilderness, let's discuss why the city of Bozeman itself just plain sucks. There may not be much traffic, but if you hit downtown during rush hour, you might as well pull over and try one of the ten local breweries. Oh, you don't like beer? Well, maybe you should try one of our coffee shops instead? Oh, you don't like coffee either? Well...Bozeman really isn't for you.